Webinar:
New tax rules – introduction of the Economic Employer concept in Sweden
Date:
3rd of March
Time: 13:00-14:30
Place: Microsoft Teams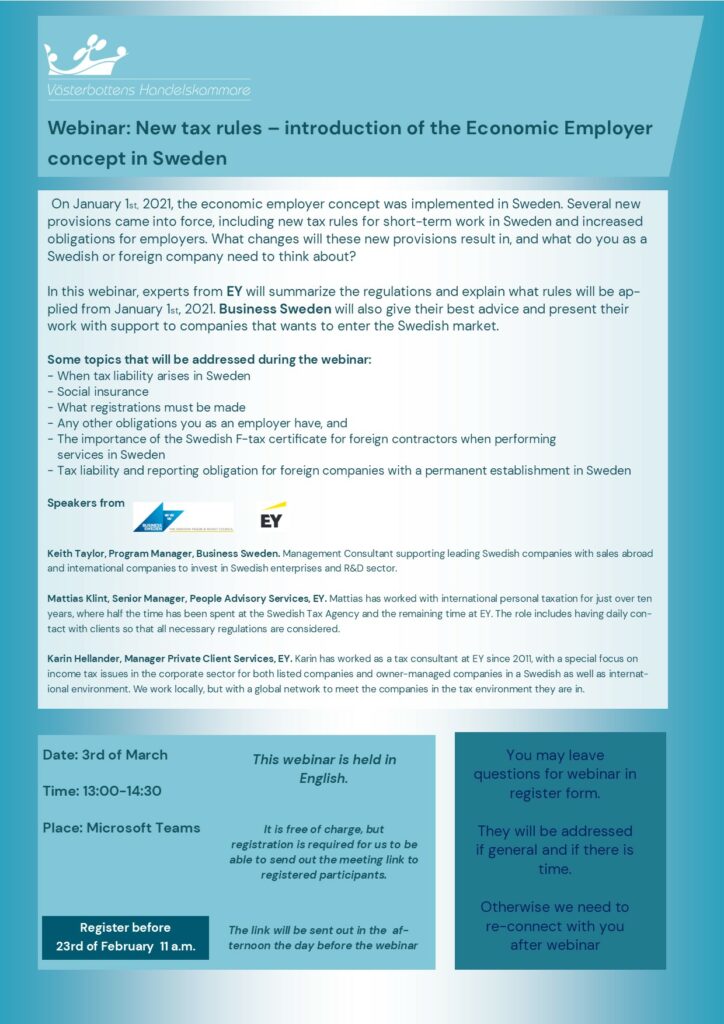 On January 1st, 2021, the economic employer concept was implemented in Sweden. Several new provisions came into force, including new tax rules for short-term work in Sweden and increased obligations for employers. What changes will these new provisions result in, and what do you as a Swedish or foreign company need to think about?
In this webinar, experts from EY will summarize the regulations and explain what rules will be applied from January 1st, 2021. Business Sweden will also give their best advice and present their work with support to companies that wants to enter the Swedish market.
Some topics that will be addressed during the webinar:
– When tax liability arises in Sweden
– Social insurance
– What registrations must be made
– Any other obligations you as an employer have, and
– The importance of the Swedish F-tax certificate for foreign contractors when performing
services in Sweden
– Tax liability and reporting obligation for foreign companies with a permanent establishment in Sweden
SPEAKERS
Keith Taylor, Program Manager, Business Sweden. Management Consultant supporting leading Swedish companies with sales abroad and international companies to invest in Swedish enterprises and R&D sector.
Mattias Klint, Senior Manager, People Advisory Services, EY. Mattias has worked with international personal taxation for just over ten years, where half the time has been spent at the Swedish Tax Agency and the remaining time at EY. The role includes having daily contact with clients so that all necessary regulations are considered.
Karin Hellander, Manager Private Client Services, EY. Karin has worked as a tax consultant at EY since 2011, with a special focus on income tax issues in the corporate sector for both listed companies and owner-managed companies in a Swedish as well as international environment. We work locally, but with a global network to meet the companies in the tax environment they are in.
This webinar is held in English.

It is free of charge, but registration is required for us to be able to send out the meeting link to registered participants.

The link will be sent out in the  afternoon the day before the webinar
WELCOME!