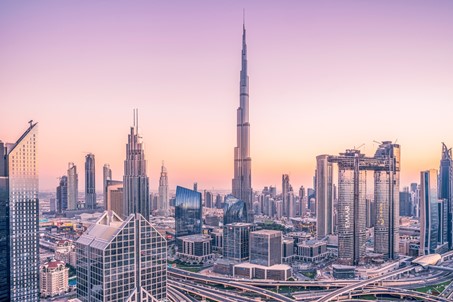 Västerbottens Chamber of commerce in Cooperation with Swedish Business Council UAE
Västerbottens Chamber of commerce and Swedish Business Council UAE have initiated a cooperation to help Swedish Companies establish themselves and start up sales in UAE and the neighboring countries.
"– The Swedish Business Council (SBC) is a unique platform by and for Swedish professionals and businesses in the UAE. Since 1994 we have been working to connect, support and promote our members in order for them to grow professionally. We are a not-for-profit organization licensed under the Dubai Chamber of Commerce. That means we are 100% financed by our members and the events and seminars we organize," says Christina von Celsing, Executive Director SBC UAE.

"– Some of the services we offer are networking and knowledge sharing among the Swedish companies and other organizations", she continues.
MAKING CONNECTIONS
We provide a unique network of professionals in the UAE, consisting of our members, the vast Swedish business community, our fellow Nordic and other international business councils, as well as local organizations. We also work closely with the Embassy of Sweden and Business Sweden.
CREATING PLATFORMS
We work to support our members by creating platforms to meet and extend their network. We organize business meetings, workshops, and seminars on current and relevant topics. But also meet for casual sundowners and celebrations of Swedish holidays and traditions.
SHARING KNOWLEDGE
Collaboration through accessibility and inclusivity is key to our success. Within and beyond the SBC community we are always open to share knowledge and experiences. This guarantees our mutual development, and we strive to improve through extended know-how and learnings every day.
Västerbotten Chamber of commerce creates conditions for growth in our region and abroad. We want to make Västerbotten an attractive place to do business in and help our companies on their export journey. The Chamber of Commerce is an independent trade organization, owned by member companies in the region of all sizes and from all industries. We influence the opinions of politicians and other relevant groups and organizations, arrange meetings and help companies to do business and to develop.
Helping companies find new markets
Borders are opened and, competitive landscapes changed, nationally and internationally. We help companies identify new opportunities and enter new markets. We organize seminars and business trips, coordinate participation at trade fairs and help our companies establish partnerships abroad.
Melker Persson, project manager

"–It feels very good to be able to connect companies in Västerbotten that want to take a closer look at UAE and the neighboring countries with SBC UAE so that they can get help on the ground from someone that knows the market as well as SBC UAE does", says Melker Persson, Project Manager at Västerbottens Handelskammare.
Interested in learning more about the project?
Visit Gateway2Export
Contact Melker Persson at melker.persson@handelskammaren.ac